Insights
Wholesale fund to focus on alternative investment debt
Posted on
11th March 2020
Wholesale fund to focus on alternative investment debt
AVCAL Journal (By AVCAL, 11th March 2020)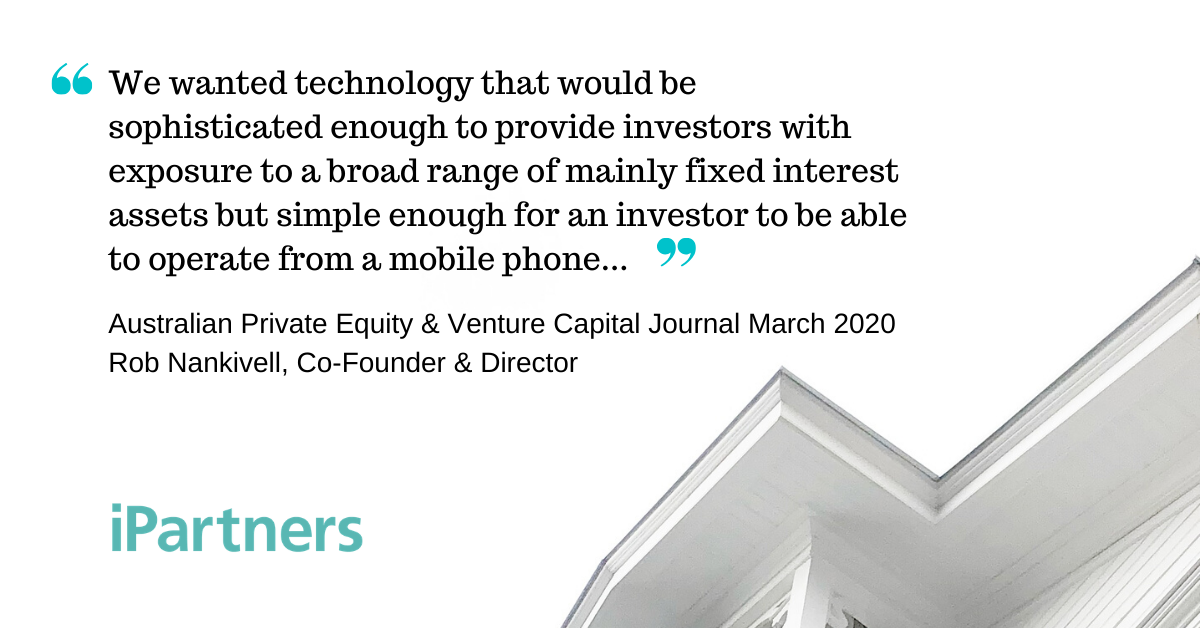 NEW FUNDS & FUNDRAISING
Wholesale fund to focus on alternative investment debt
Alternative investment firm iPartners has launched a new fund to provide wholesale investors with exposure to alternative debt investment opportunities offered to its investor network. The iPartners Investment fund is seeking to raise an initial$10 million.
iPartners was established in2017 by investment bankers Travis Miller, formerly of UBS, Deutsche Bank and ANZ, and Rob Nankivell, formerly of JP Morgan, Macquarie and CBA. Prior to the establishment of iPartners, Nankivell also gained experience of operating an online investment business as chief executive of equity crowdfunding company VentureCrowd.
With iPartners, Miller and Nankivell set out to exploit the tailwinds of growing interest in
alternative assets flowing from the low-interest-rates-for-longer scenario, and of self-directed investment becoming more accessible through advances in technology.
Their objective from the start was to develop an online platform that would simplify alternative investments, primarily in credit, for wholesale investors, Nankivell said. Miller said iPartners had no problem in gaining investor interest as the founders' combined "old-school" networks provided a ready market.
The challenge was in developing technology to make transactions simple, Nankivell said. "Technology is where most of the capital investment has gone so far," he said. "It is still the biggest spend per month as we continue to develop the platform with the input of users.
"We wanted technology that would be sophisticated enough to provide investors with exposure to a broad range of mainly fixed interest assets but simple enough for an investor to be able to operate from a mobile phone. We wanted it to be possible for an investor to log on to an opportunity on his phone as he boarded the Rose Bay ferry at Circular Quay and to have completed the transaction by the time he was ready to get off. That was the test."
The platform now has about 4,000 registered users and to date has enabled more than 50 transactions which have raised a total of more than $200 million. Most of these investments have been components of larger deals ,many worth more than $20 million.
Essentially, the platform provides wholesale investors with direct access to institutional grade alternative investments as co investors alongside reputable partners. They invest alongside the founders who take stakes in all the investments they accept onto the platform.
Investments are converted into units in the iPartners trust with the trust then making a single investment in each specific opportunity.
Current investments and unit prices can be viewed on an investor's dashboard. An investor can also access a secondary market module to resell investments to other investors on the platform, a function which provides some liquidity.
For capital raisers, the iPartners platform provides a streamlined process for raising capital. iPartners is mainly exposed to infrastructure and property but has built up exposures across other asset classes including asset-backed loans to medium and small businesses.
Miller said the team had stretched the envelope in business lending by developing a structure which had enabled it to become the market leader for debt investment in emerging consumer finance businesses.
The structure was pioneered for Edstart, a fintech which partners with private schools to provide fees payment plans to parents. A separate entity was set up by iPartners to finance the loans to parents. That entity receives the interest on the loans and pays interest on the facility to iPartners before profit flows to Edstart.
A higher interest rate is charged on the facility than would be charged by a banking institution, Miller conceded, but he said it had enabled Edstart to establish a credit warehousing operation before this would have been considered by a banking institution. But with a high exposure to debt secured by property, is iPartners really making alternative investments?
Australian Private Equity & Venture Capital Journal
March 2020