Insights
Unlocking Potential in "Value-Added" Hospitality Investments
Unlocking Potential in "Value-Added" Hospitality Investments
Property Investments (By Alex Thompson, 9th March 2021)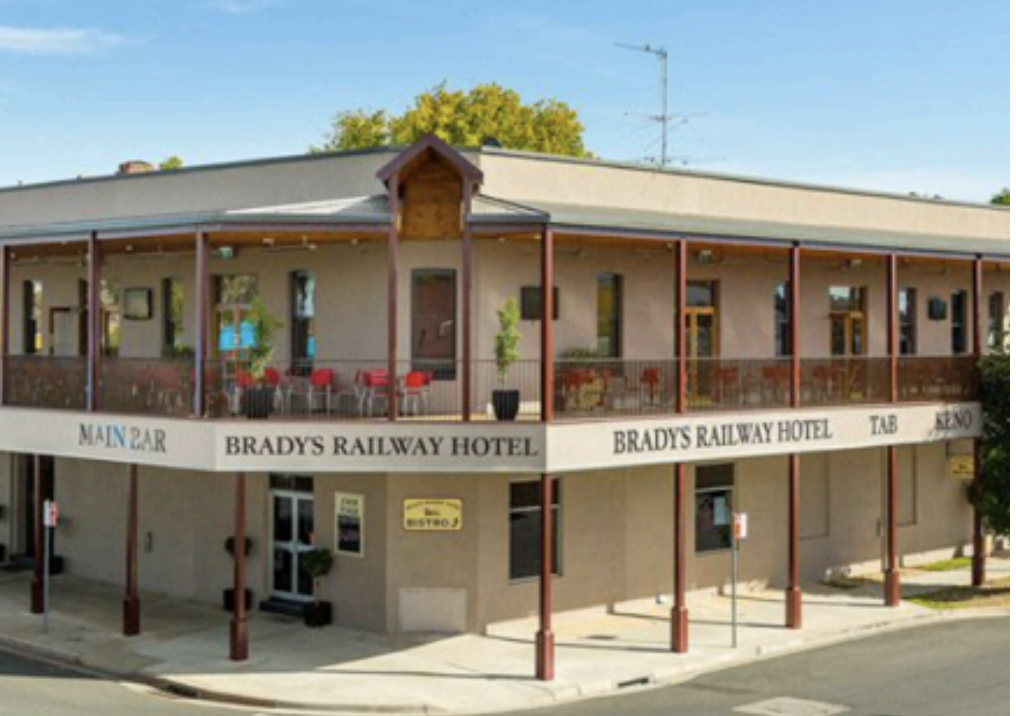 There is significant demand for real estate investments globally. As investors, our aim is to recognise assets that may be neglected, undervalued or simply overlooked.
Put simply, 'value-added' investments are a strategy subset for real estate investing, which take advantage of undervalued assets and unlock value for investors through effective investment and management techniques, and an understanding of property markets.
Of course, not all investments are created equal, and it is important to understand the risks when reviewing any opportunity.
Investing in hospitality
Given the recent industry disruption and the capital gaps across the sector, hospitality assets like pubs can be attractive candidates for a value-add investment strategy.
In fact, recognising the potential upside in hospitality investments, institutional investors including Hotel Property Investments (HPI.ASX), ALE Property (LEP.ASX) and Redcape Hotel Group (RDC.ASX) are becoming the dominant force in acquisitions in this space.
Did you know?
Approximately 60% of industry revenue is generated from on premise and off-premise liquor sales, with
~25% from gaming and ~15% from food sales.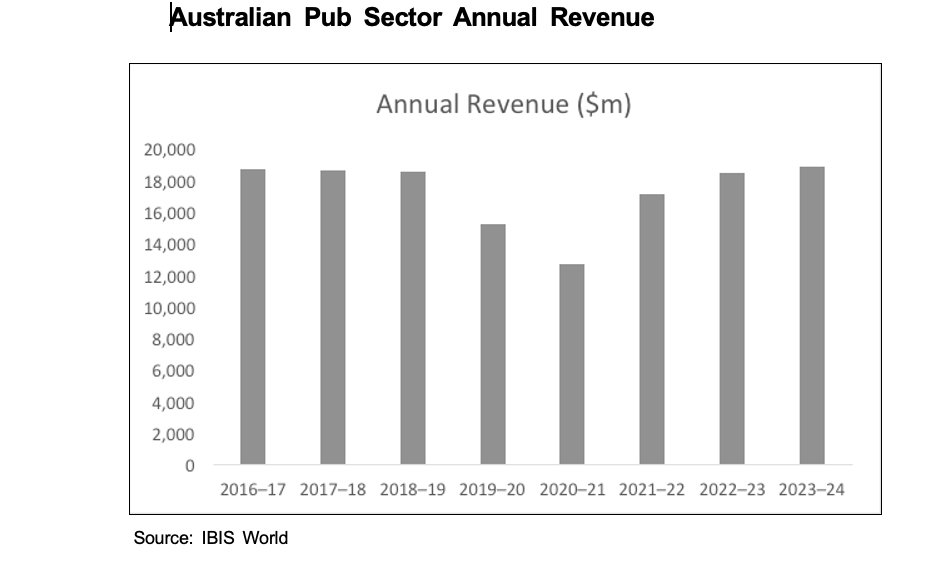 Coming back strong from the COVID "punch in the face"
There is not much you can do when forced to close your doors during a global pandemic. As Mike Tyson famously said, "Everyone has a plan until you get punched in the face."
At the deepest point of the COVID lockdown, some of the large listed Australian pub operators lost more than half of their market value. However, since easing restrictions in June 2020, pub operators have been thriving.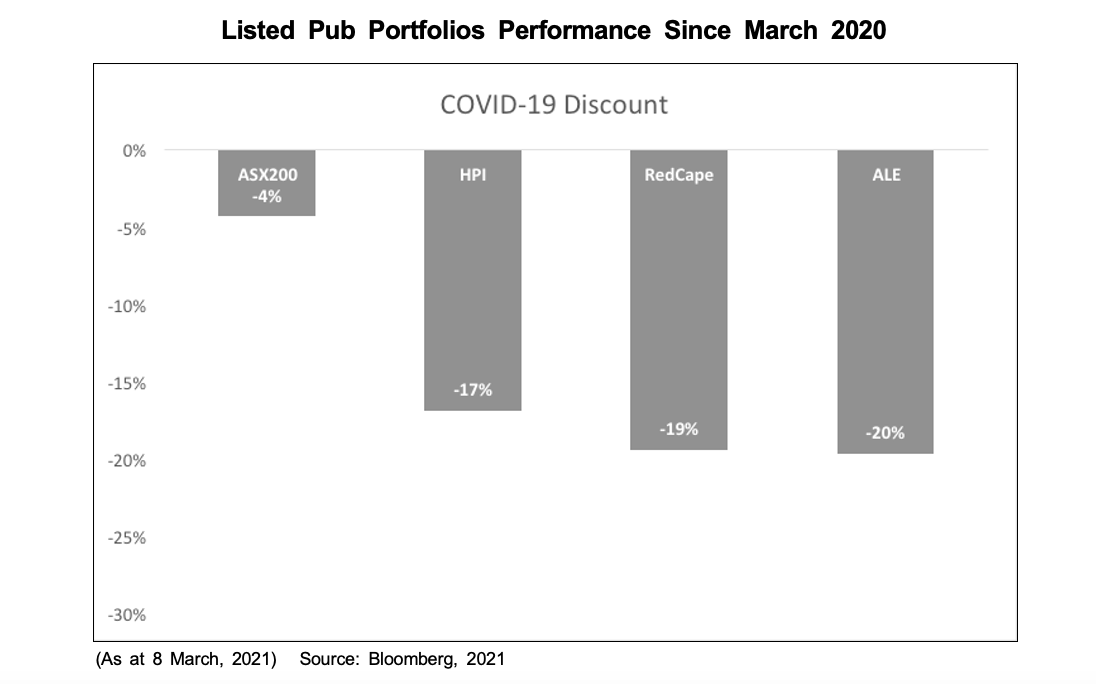 In fact, Redcape (RDC.ASX) recently reported 24.60% higher distributed earnings than during the same period prior to the lockdown. Despite this, Redcape and others still trade below their March 2020 levels.
This mismatch presents an interesting opportunity for investors.
Beyond the publicly listed pub portfolios, there is a large and liquid market for the sale of individual hospitality assets. Over the last 10 years, on average 115 individual pub assets have been sold in Australia per annum (Source: JLL).
Typical investors include smaller multi-venue or single-venue family operators, high net worth individuals and investment syndicates, who are typically attracted by the long-term defensible and cash generative earnings generated by the asset class.
Capital works targeting an uptick in earnings
For experienced operators, targeting venues which may benefit from light-touch property improvements can deliver value uplift through simple and efficient capital improvements. For example, targeted expenditure such as relatively simple refurbishments can expand the product offering and expand a pub's customer base.
The greatest opportunities for value generally lie in assets that are underinvested and that have been pigeonholed into catering to a single, narrow customer segment. Capital improvements can broaden the appeal of the venue to multiple differentiated customer segments, which enhances revenue-generating opportunities.
Focused capital expenditures and operational improvements lead to immediate earnings improvements. Of course, working with an experienced operator is critical to success.
Adding value to the great Aussie pub
Despite the challenges that have been brought about by the COVID pandemic, hospitality in Australia is an incredibly resilient market, with IBIS World predicting the industry will recover over the next five years, aided by a boost in local tourism.
With this in mind, we see this as an interesting time for hospitality investing, particularly in those establishments that have been under-invested and under-managed.
Our approach at iPartners is to partner with experienced pub operators and target assets in significant regional centres. Pub assets in regional Australia tend to trade at a meaningful discount to the metropolitan market. Coupled with the high industry fragmentation and potential for value-add provides an interesting opportunity for cap rate compression which drives valuations up enabling potentially attractive investor returns.
Australia's pub industry has always been a highly cash-generative business, contributing some $17.2 billion to the economy, indicating significant potential for savvy investors. However, the real appeal is how a pub can increase its revenue-generation potential with some simple capital improvements and modern management operations.
Disclaimer:
This document is a summary and marketing material only. This material may not be reproduced, distributed or transmitted to any other person or incorporated in any way. The information contained in this document is general information only. This document does not (and is not intended to) contain any recommendations, statements of opinion or advice. In any event, the information in this document does not consider any individual person's objectives, financial situation or particular needs. This document is not a product disclosure statement or offer document under the Corporations Act and has been prepared for use by Wholesale Clients only. This document is not required to be and has not been lodged with ASIC under the Corporations Act. Copyright © 2020 iPartners. All rights reserved. iPartners Pty Ltd ABN 97 616 310 555 AFSL 502 791. Level 32 Governor Macquarie Tower, 1 Farrer Place, Sydney NSW 2000, Australia.