Insights
Koala Farmland Fund In The News
Posted on
9th September 2021
Koala Farmland Fund In The News
Featured in Courier-Mail and the Gold Coast Bulletin (By Shannon Turnbull, 9th September 2021)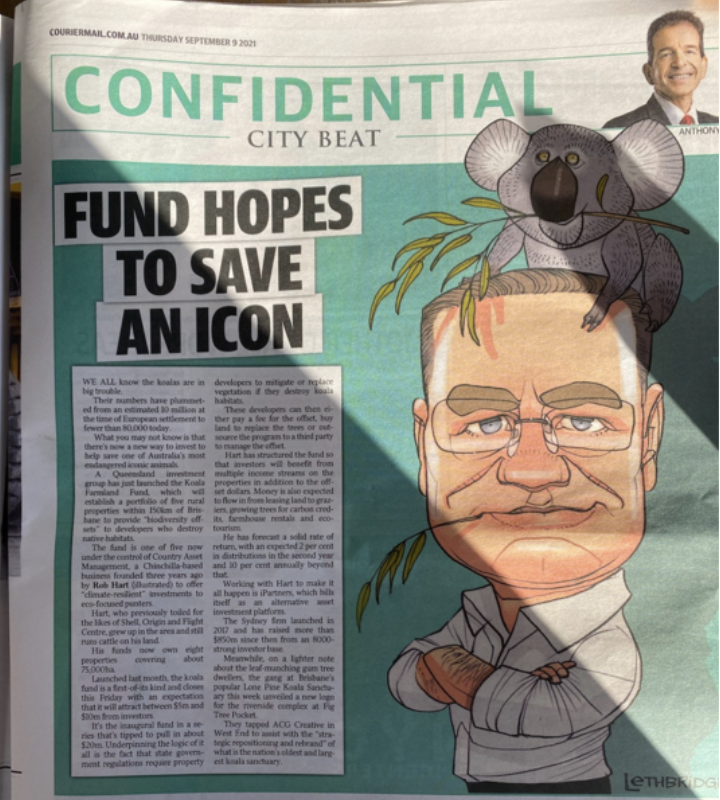 A recent article in the Courier-Mail talks about how the Australian Koala population is in trouble. Koala numbers have plummeted to less than 80,000 in the wild.
"What you may not know is that there's now a new way to invest to help save one of Australia's most endangered iconic animals.
A Queensland investment group has just launched the Koala Farmland Fund, which will establish a portfolio of five rural properties within 150 km of Brisbane to provide "biodiversity offsets'' to developers who destroy native habitats.
The fund is one of five now under the control of Country Asset Management, a Chinchilla-based business founded three years ago by Rob Hart to offer "climate resilient'' investments to eco-focused punters.
Hart, who previously toiled for the likes of Shell, Origin and Flight Centre, grew up in the area and still runs cattle on his land. His funds now own eight properties covering about 75,000ha.
Launched last month, the koala fund is a first-of-its kind and closes this Friday with an expectation that it will attract between $5m and $10m from investors. It's the inaugural fund in a series that's tipped to pull in about $20m.
Underpinning the logic of it all is the fact that state government regulations require property developers to mitigate or replace vegetation if they destroy koala habitats.
These developers can then either pay a fee for the offset, buy land to replace the trees or outsource the program to a third party to manage the offset.
Hart has structured the fund so that investors will benefit from multiple income streams on the properties in addition to the offset dollars.
Money is also expected to flow in from leasing land to graziers, growing trees for carbon credits, farmhouse rentals and eco-tourism.
He has forecast a solid rate of return, with an expected 2 per cent in distributions in the second year and 10 per cent annually beyond that.
Working with Hart to make it all happen is iPartners, which bills itself as an alternative asset investment platform.
The Sydney firm launched in 2017 and has raised more than $850m since then from an 8,000-strong investor base."
You can read the full article here.