Insights
iPartners Rebound Series Delivers Investors 422% Return
Posted on
20th April 2021
iPartners Rebound Series Delivers Investors 422% Return
iPartners Rebound Series Delivers Investors 422% Return (By Travis Miller, 20th April 2021)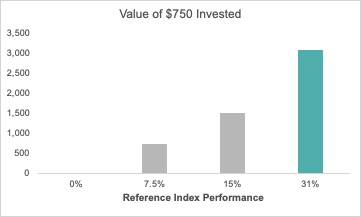 The idea to offer the iPartners Rebound Series - launched in April 2020 - was derived from the team being constantly asked for our view on the market direction and how investors could possibly take advantage of the first COVID-19 market downturn that occurred in March 2020. The iPartners Rebound Series, offered investors 100% exposure to an increase in equity market indices with a known worst case outcome. Investors who participated in this series have seen their holding increase to more than four times their initial investment amount.
Market environment
Stating the obvious, at the time there were many unknowns. Will the market crash further or rebound? How serious is COVID-19? Will there be a vaccine? Will the footy season be cancelled? (Lots of questions we now have the answers to - albeit with the benefit of hindsight.)
As a team we knew it was not the time to put lots of capital at risk or take on single stock risk although we were confident with the benefit of time the market pullback would present a good entry point.
Solution
To diversify from single stock risk we utilised market indices rather than individual shares.
We utilised an option based strategy so that we knew our worst case outcome was capped at the investment amount of 7.5%, while still providing 100% market exposure.
As we knew the market would be highly correlated, we utilised a basket of global market indices to cheapen the price of the option based strategy.
We also did not want to cap our upside as if we got it right we knew we would get it really right so the strategy avoided any option cheapening strategies like sold calls.
Payoff
Investors paid $750 for every $10,000 exposure they wanted to the basket of equity market indices.
If the reference index was up 7.5% from inception, investors would receive $750 for every $10,000 exposure so their money back.
If the index was up 15%, investors would get back $1500 for every $10,000 exposure, so they would have doubled their money.
If the index went down they would lose $750 for every $10,000 exposure - the payoff perfectly replicated a traditional call option profile.
As at 14 April, 2021 the underlying reference index had increased by 31.67%, meaning investors will receive back $3,167 for every $10,000 exposure, equating to a 422% return on their capital invested.